A Transformative Summer with YMCA of Central Ohio
By Zach Compston, Director of Education and Community Outreach
I hate bullying because it makes people so sad,
I cry, cry, cry – Why do people have to be so bad?
A young 5th grader wrote these lyrics during an exercise in which students learned about how to write their own blues song at Gahanna YMCA. We recited the lyrics to a fairly rowdy group, but once we started playing a slow blues behind those lyrics sung by vocalist Rachel Azbell, the room went SILENT and the students' attention was fixed on the music and words.
This was one of the many transformative moments that occurred this summer, as we visited sixteen YMCA locations throughout Central Ohio – from as far south as Circleville, north to Delaware and many locations in between. Years of partnership with the YMCA of Central Ohio has yielded amazing programming and outreach to students between the ages of 3-18. However, this was arguably the most amazing summer yet!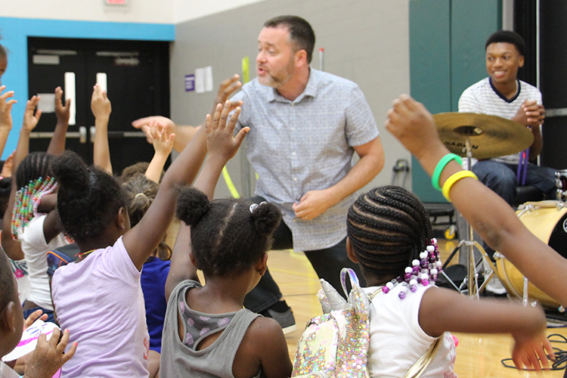 Not only did each visit consist of a lead teacher (at times myself and at other times Jazz Academy Coordinator, Rachel Azbell) alongside a professional pianist or bassist, but this year, we chose nine outstanding members of the Columbus Youth Jazz program to complete our teaching artist roster. Some students who once participated in JAG early childhood programming now found themselves teaching the very material they once received as youngsters, bringing their love of jazz full circle. The YMCA campers LOVED guessing which teaching artists were still in high school, and yes, some even guessed that I was that young while one student guessed that I was 128 years old!
Each visit began with a performance of When The Saints Go Marching In in which Rachel sang the words and each instrumentalist took a solo. No matter the age range, this song captivated the students and filled them with wonder about how jazz works. We followed this with a discussion of the names and sounds of each instrument onstage. Students marveled at the size of the bass and the ability for an electric piano to play many different types of sounds. Many learned for the first time that the voice, not the microphone, is actually a musical instrument! As we discussed the nature of improvisation in jazz, we used Twinkle Twinkle Little Star as the example, first singing along as a group before the band members began to take improvised solos using that well-known melody. Without much prompting, the Columbus Youth Jazz teaching artists responded perfectly, playing Twinkle Twinkle by ear, then twisting and turning it into their own jazz solos.
We used many activities that had the students jumping, singing, moving and playing instruments. Jazzy Jive had the students moving all over the room until the count of "5", at which point they would "freeze" into a wide range of hilarious poses and shapes. Rainy Day Blues saw the students playing along with boomwhackers to the 12-bar blues progression and composing their own lyrics, as in the case of the aforementioned Bullying Blues. Spirited renditions of St. Thomas allowed students to dance and play shakers while the band performed their best calypso feel.
In total, over 1,000 students took part in these summer sessions, not only learning a little about how jazz works, but interacting and becoming inspired by the artistry and energy of our teaching staff. The students shared with us the many instruments they play and wish to play in the future. Some students hugged our teaching staff and many were thanking us by name as we left.
As we saw in the case of the Bullying Blues – having just one minute for the kids to lean into the sound of a slow blues and one of their classmates' heartfelt lyrics can make a world of difference. We need more moments of pause and reflection through music such as this, especially with the young ones, and JAG remains committed to this cause. It was an honor to get to reach so many students from all corners of central Ohio this summer with the power of music.
An exciting outcome of the work this summer with YMCA of Central Ohio is the development of a new early childhood education curriculum which will be used in our new Kids Club program this fall. This program will be bringing the interactive learning we saw this summer to our home at the Jazz Academy.
Many thanks to Marci Hasty, Executive Director of the North YMCA and the coordinator of these summer activities, and to the many site coordinators and camp counselors who do the most amazing work with these students throughout the summer.
Special thanks to State Auto Insurance, who provides generous financial support to make these programs possible.
If you want to learn more about Jazz Academy, visit www.jazzartsgroup.org/education or follow us on Facebook at www.facebook.com/thejazzacademy.