A Magical Trip to Havana, Cuba. May, 2016
Jazz Arts Group (JAG) along with Cuba Rhythm and Views (based out of Tempe, Arizona) embarked on a people to people cultural excursion on Wednesday, May 18, 2016. The group of 33 departed from Miami, Florida with participants from Arizona, Florida, and the largest contingency, Columbus, Ohio. Cuba Rhythm and Views has been taking classical conductors to Cuba for cultural tours for years, on this occasion the group was drawn to Havana by performances and presentations by JAG's own Byron Stripling. Byron is the conductor of the Columbus Jazz Orchestra and an international soloist. by Kimberlee Goodman
Wednesday, May 18, 2016 | Day One
The group assembled bright and early for a 7AM departure to Cuba, the flight is only 45 minutes from Miami.
Once we arrived in Havana, we were introduced to our bus driver Enrique, and our extraordinary tour guide, Ry. We were given the rules for travel to Cuba: patience and flexibility. This turned out to be extremely important on many occasions during our trip where things didn't go exactly as planned but often turned out better than expected.
After a short visit to the Catedral de San Cristóbal we took a walking tour of Old Havana; the sights and sounds were filled with music and culture.
We then had a lovely introductory lunch where Byron and pianist, Aldo López-Gavilán joined us after their rehearsal.
That evening we drove to the Fortaleza de San Carlos de la Cabaña where we witnessed the century's old canon ceremony. The Fort was built in 1774 and for over 200 years a canon was fired to announce the closing of the gates and the city. Today this is done as a ceremony to keep the tradition alive. The event included a marching brigade with drummers and a leader singing out to summon the crowd to the firing of the canon.
Thursday, May 19, 2016 | Day Two
Day two was the most incredible for me personally. We toured ISA (Instituto Superior de Arte), ISA is described as the "Juilliard of Cuba," an institution that educates student dancers, artists, and musicians from all over the country. I brought donations for the student musicians that included trombone, horn, and clarinet mouthpieces, clarinet and saxophone reeds, tuners, strings, and drumsticks. As I approached the students in the courtyard I inquired what instrument they played and gave them the appropriate gift from the many generous donors I had solicited in Columbus. I heard a young flutist (I'm a classical flutist by training) playing a familiar work by a famous composer. I approached her to discuss the music she was playing, after I told her I was also a flute player she gave me her instrument to try. The instrument was the same make and model that my 6th grade students in Ohio play on except this instrument was in almost unplayable working condition. I was astounded at the beautiful sounds that Barbara got out of this flute. (For example: This would be equivalent to driving the Indy 500 in a Pontiac Grand Prix).
I was quickly brought to tears because I didn't speak very much Spanish (almost none) and her English wasn't outstanding yet we communicated through the universal language of music. This was the first of many emotional experiences in my trip to Cuba.
After the tour we proceeded to another part of the conservatory to observe Byron's masterclass with the trumpet students at the school. We watched for an hour as he worked with these outstanding students. Byron noted that the exercises he challenged the students with are typically very difficult for college-aged students but at this school the high school musicians were adept at the tricky studies.
Before we left ISA I still had gifts left for the students, and I asked a young clarinetist to lead me to a group of students so I could distribute the remaining items. I was swarmed by young people who were thrilled at the quality of reeds, strings, and mouthpieces I had to give them. You can see the appreciation in their wonderful expressions.
This incredible day ended with an unforgettable dinner at a local paladar. Paladares are private homes that have been converted to restaurants and are popping up all over Havana, they feature some of the best cuisine that the city has to offer.
Friday, May 20, 2016 | Day Three
On this day we began at "Sisters of the Love of God." This Order operates a private day care that serves the needs of 150 children. We got to play with the children and deliver donations that included first aid supplies, socks, underwear, diapers, wipes, crayons, chalk, glue, pens, pencils, and markers. The children won our hearts not with their words but with their unforgettable smiles. They were unafraid and just wanted to jump and dance and sing with anyone who was willing. Many members of our group were deeply touched by their interaction with these beautiful children.
Saturday, May 21, 2016 | Day Four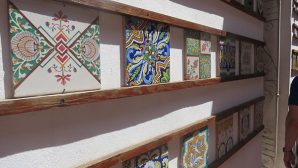 Saturday began with a trip to an artist's studio. This is the location of a studio that features many different artists who make jewelry, oil paintings, print making, and sculptures of different mediums.
We had the opportunity to meet with some of the artists as well. This was followed by a trip to the home of two sisters who are both artists as well. Their house was incredible, it featured their art and included a collection of tiles that they have acquired over the years. The tiles are mostly from homes that have been renovated or have simply fallen down. Many homes in Havana are disintegrating; these homes belonged to very wealthy families before the Revolution in 1959.
We then took a tour of Revolutionary Square (Plaza de la Revolución) that featured enormous steel memorials of Che Guevara and Camilo Cienfuegos. The picture of Cienfuegos includes the quote "Vas bien, Fidel" – you're doing fine Fidel.
This afternoon we were treated to a private concert conducted by Dayana Garcia who is the wife of Aldo López-Gavilán. The chamber orchestra presented a concert of diverse offerings by Dmitri Shostokovich, J.S. Bach, and Guido López-Gavilán. The concert was in the backyard of a very modest home with very few considerations for the 90+ degree heat; the musicians played as if they were on the stage of Carnegie Hall. The dedication to their music-making through such adversity once again brought me to tears. I was truly touched by this outstanding concert.
Later that evening was the event we all had been waiting for. We were treated to a concert with Byron Stripling, trumpet, Aldo López-Gavilán, piano, "Coqui" Alejandro Calzadilla, saxophone/clarinet, Julio César González, bass, and Ruy López-Nussa, drums. They played for a sold out house at the Museo Nacional de Belles Artes de La Habana and the concert was recorded for Cuban television. The quartet brought the house down with contemporary works by Aldo paired with classics like "Basin Street Blues" and "A Night in Tunisia." The quartet shined and the audience gave them enthusiastic applause and shouts.
Sunday, May 22, 2016 | Day Five
Our trip started to come to conclusion much too quickly. Sunday was our last day in Havana and we spent it well. We started the day by hearing the Orquesta Sinfónica Nacional de Cuba which was founded in 1959. The performance was the culminating concert of Cubadisco 2016. Cubadisco is an international music festival that takes place every May in Havana and features local and international musical talent. It has been described as "the Cuban Grammys."
That afternoon attendees were given the afternoon off to shop, enjoy the pool, wander Old Havana, or just relax. That evening we celebrated the end of our marvelous trip at yet another outstanding paladar, La Habanera.
At the farewell dinner we toasted outstanding music, art, dance, and new friendships. This trip had an enormous impact on all that attended, it reaffirmed relationships, created new ones, and learned about all that Cuba has to offer in regards to culture, food, and indelible views.