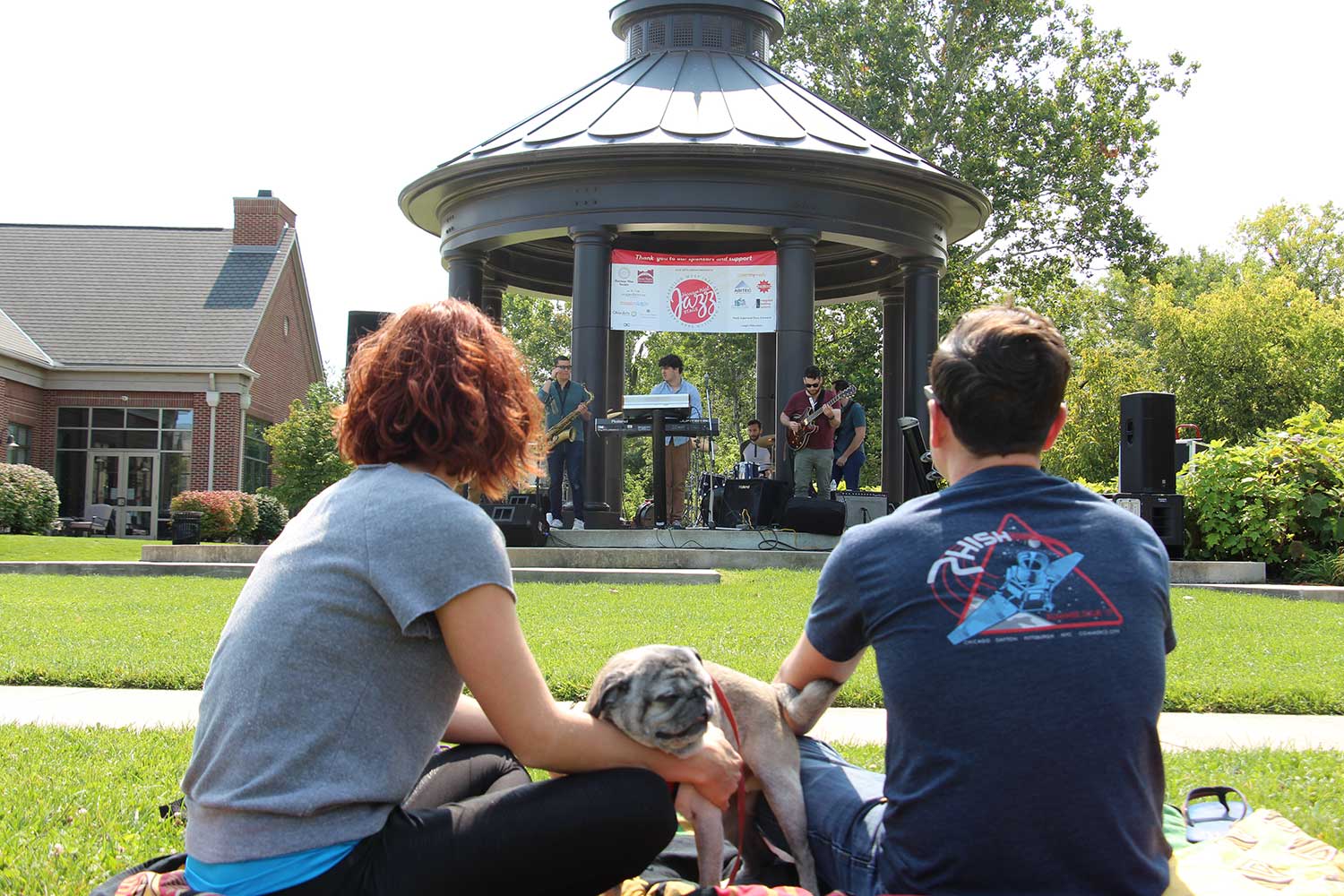 Harrison West Jazz Stage Returns for Sixth Season September 9th – September 30th, 2018
 Columbus, OH – The Harrison West Jazz Stage returns for its sixth season September 9 – September 30 at the Harrison Park Gazebo.  Presented by Jazz Arts Group in partnership with Harrison West Society, this series of FREE concerts features local jazz musicians and showcases a wide range of jazz styles over the four concert series.
Concerts take place from 1:00 – 2:30 PM at the Harrison Park Gazebo, located at West First Avenue and Harrison Park Place.  Each concert is preceded by musical activities for children, provided by Grandview Heights based music-lesson studio, Musicologie.  All performances are FREE to the public.  Food may be purchased from participating food trucks.  A rain date of October 7th has been established in the event of inclement weather on any of the scheduled dates.
Each week hundreds of residents from all over the city gather to relax on a Sunday afternoon and take in the sounds of jazz set against the riverside park and gazebo.  Cheers to the sponsors who are helping to make it all possible this year: City of Columbus, Harrison West Society, Wagenbrenner, CoverMyMeds, Katalina's, Thompson Hine, and ABITEC.
This year's Harrison West Jazz Stage lineup features some of the best talent Columbus has to offer.  The series kicks off September 9th with Birdshack, a dynamic jazz trio featuring Tony McClung, Jeffrey Ciampa, and Joshua Hill.  Columbus favorites, Flippo, will be featured next on September 16th with a taste of Jazz/Rock Fusion from Michael Cox, Dennis Hodges, Erik Augis, Andy Woodson, and Louis Tsamous.  The Shawn "Thunder" Wallace Quartet takes the stage the following week, September 23rd.  Shawn Wallace has performed nationally and teaches jazz right here in Columbus at The Ohio State University.  Wrapping up the series, on September 30th, will be New Basics Brass Band, which 614 Magazine describes as "a seamless blend of New Orleans traditional jazz, marching band heroics and funk bravado."
Founded in 2013 and performing at the Harrison Park Gazebo, the Harrison West Jazz Stage seeks to celebrate the work of local musicians across a variety of genres, foster community among neighbors, and raise the profile of the Harrison West neighborhood.  For more information, visit our Facebook page at www.facebook.com/HarrisonWestJazzStage.
# # #
2018 Harrison West Jazz Stage Concert Line-Up:
Sunday, September 9th: Birdshack
Food Truck: Miggy's Mobile Kitchen and JPOPS
Sunday, September 16th: Flippo
Food Truck: Dos Hermanos and JPOPS
Sunday, September 23rd: Shawn "Thunder" Wallace Quartet
Food Truck: Ajumama and JPOPS
Sunday, September 30th: New Basics Brass Band
Food Truck: Hogback BBQ and JPOPS
Sunday, October 7th: Rain Date