A Snapshot of JAG Education – Inspiration, Community and Celebration
By Rachel Azbell, Education Program Manager
Jazz Arts Group's 50th anniversary season kicked off with a bang with a celebration of "Louis Armstrong and Friends" featuring the great Carmen Bradford with special guest Ricky Riccardi. This week was filled with some of the most special, memorable moments for not just myself but all who were involved; from JAG staff, to the special guests, to our wonderful community of students, teachers, and audience-members alike.
The Columbus Jazz Orchestra's first show of the season showcased the biggest great in our music – Louis Armstrong. Those who know jazz understand the significance and reverence required for this figure. Everything he did, from his virtuosic trumpet playing, singing and scat-singing, to who he was and what he stood for as a person is worthy of celebration and remembrance. A particular highlight from this show was learning more about Louis from Ricky Riccardi, who is the foremost authority on Louis and directs the archives at the Louis Armstrong House. Hearing the history and depth to the person himself was so intriguing and it made me appreciate the music even more. What better way to start a season than this? I also enjoyed the musical selections of the band, the interaction of Carmen and Byron, Carmen's beautiful vocal features and mostly, the way the audience loved this show too.
Carmen Bradford has a special presence about her. I reme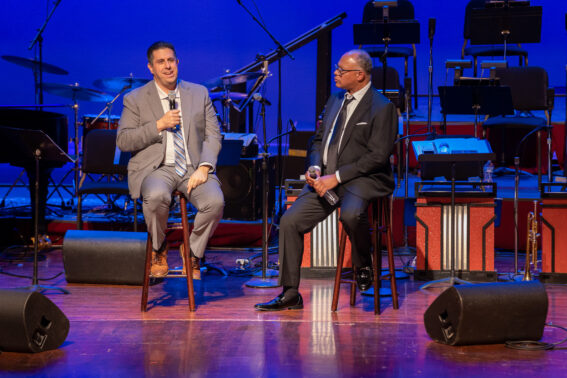 mber when I met her in 2018 as a young singer how  inspired I was by her artistry and presence. Beyond that though, I continued over the last several years to reminisce fondly on how special Carmen made me feel. As a young musician, we seek acceptance and recognition from the people who inspire us. We want so badly to be seen by them as artists too. As a young woman, Carmen did that for me. Seeing her again this week felt like a reunion of sorts. She asked me about my life, what's going on in my career and how my mom was. I felt instantly reconnected with her. Add this to the undeniable voice and the history of this woman and you start to get the full picture of how amazing this person is and how lucky you are to be around her.
I scheduled Carmen's visits to two high school choral programs as part of our Guest Artist in Schools program, which brings world class musicians to classrooms for free. We visited Fort Hayes, under the direction of Martha Tepper and Centennial High School, under the direction of Pam Welsh-Huggins. In both visits, I was struck by how immensely personal and deep Carmen got with these students. She has a special way of inviting them into her world while also relating to where they are as young musicians. One special moment during the week that I will never forget is Carmen and the students at Centennial doing a call and response scat singing activity on the blues. A small snippet of that activity is available to watch below. While watching the students, you could see how they lit up when Carmen sang a particularly fun, bluesy idea and they got to sing it back. Several students even had the opportunity at both schools to sing solo for Carmen and receive some feedback. It was really inspiring to watch these young musicians stand before such an important musician like Carmen and use their voice in such a vulnerable way.
This program is one of the many amazing educational opportunities Jazz Arts Group offers to the Columbus community. As we begin our 50th anniversary season, we are excited to be growing the old and creating the new in JAG Education. A snapshot of what's happening and what's to come: our Youth Jazz program has successfully bounced back from the pandemic, with four big bands, five small groups and a vocal lab with ten singers rehearsing every week in the Jazz Academy. Our signature programming, including the Columbus Community Jazz Band, PBJ and Jazz, Jumpin JaKs, the Youth Jazz Lab in Schools program and more are thriving and searching for ways to grow. Unrolling this season are many new programs, including the Jazz Academy Jam Session series, a monthly educational jam, the Youth Jazz Vocal Lab in Schools, the Jazz Academy Adult Vocal Workshop and in the spring, the return of the Columbus Youth Jazz Girls Project with a Jazz Girls Day in store. We couldn't be more excited to be offering these programs to our community and we want you to be a part of it.
Please visit our website for our most up to date programs and events and reach out to me, Rachel Azbell (razbell@jazzartsgroup.org), with questions or for ways to get involved.